Clipboard History Pro
Introduction of Clipboard
Over 100,000 happy users
Keeps your text
Clipboard History and
allows you to rollback
any item
Extension for Google Chrome and Microsoft Edge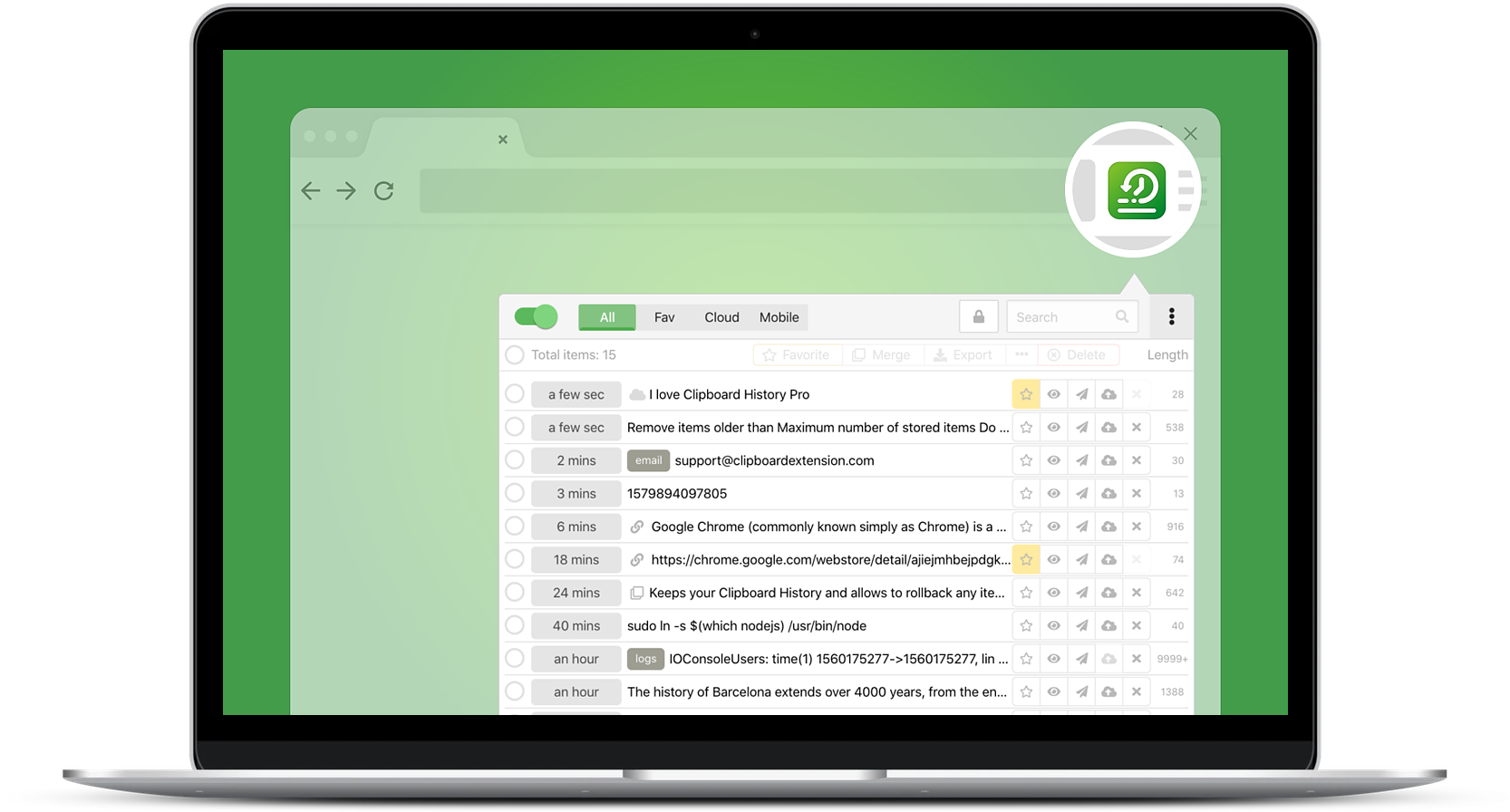 Our advantages
Track your copy history

Clipboard History Pro extension helps to manage your clipboard history in a way that you never have to worry while copy-pasting again. Once you copy any text, it will save all your copied history. This text can be easily used with the extension later.

Sync Across Devices

The extension offers seamless synchronization on multiple devices. Using Mobile cloud and our apps for iOS and Android you can send history items between browser extension and your smartphone.

Context Menu Integration

There is a context menu integration with input fields. Thus, it is even easier for you to paste favorite text notes or clips from your history. All you need to do is make a right-click.

Merge and Add Tags to Your History Records

It's easy to merge two or more copied items from your history and convert it into a new item. The extension also allows you to add tags to any item in your clipboard history record.
Meet the Pro features
As the extension constantly improves, users with the subscription always get the latest Pro features.
Clipboard History Pro
Activate Pro subscription for accessing additional features and support the extension development.
Learn More
What our users say
Houston M
This is the best thing ever created by man and should be a mandatory thing installed by default
For the record, this saves literally everything you copy or cut even if it's not on Chrome. I copied something on the discord desktop app and it still showed it after I accidentally overwrote it.
...
Micke Mcrill
Yesterday, I had a high school English test, and had to write an essay. We had to use some special software, that in order to prevent cheating disallows you to exit the program before handing in the essay. I wrote quite a decent essay, if I may say so myself, and I wanted to have it saved, so I copied it to clipboard. After I had finished it and closed the software, I forgot to paste the bloody essay in a separate document before I shut down the computer. I thought I would never see it again. Then, this morning, I looked through the entries in this extension, and lo and behold, the copied essay was still there. Thank you, Clipboard History, for your excellent extension; you saved my life.
...
Markeisha Todd
I work in IT and work trouble tickets daily. This tool has become so useful when it comes to adding the same notes to repeated tickets or having to send out similar emails on a daily bases. Been Using it for 2 months now and I love it! Awesome Job.
...
Melissia Lenox
clipboard pro saves me tons of time and has made my life so much easier; regardless of what i am doing i am helped by this extension; it is a rare extension or app that i would readily agree to pay for and i put clipboard pro at the top of my very short list
...
James Ross
I love this app. I use it every day. Its a great way to keep notes handy right where you need them. Such a simple little utility improves my organization and productivity greatly. highly recommend it.
...
Carrie Lewis
I use this extension A LOT! Thank you for creating this as it has helped me in innumerable ways from work to just keeping information in a spot that I can grab it easily. So awesome and it's made work move faster. :-) No more Word docs LOL
...